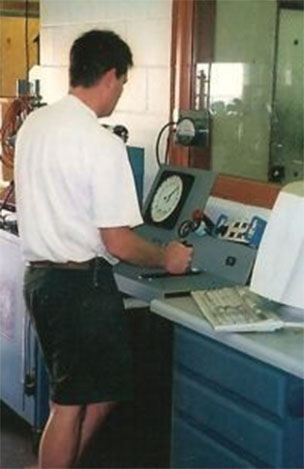 When Ivey Engines, Inc. was first established in April of 83', the budget was tight and parts were hard to come by. Then Jay met Mike Gué and Phil Creighton from Essex Racing, where he was able to trade completed engines for parts to build his own engines to sell. The first engine went to Ken Gordon and was painted Detroit Diesel green in honor of Jay's father's longtime commitment to the company. While the color may have been hideous, the performance was quite the opposite as Ken won the first race an Ivey engine had been in.
As word of mouth spread and business picked up, Jay was attracting customers from all over the country. In 1985, Ivey customer Johnny Herbert was the first to win the Formula Ford Festival at Brands Hatch in England with an American built engine. As the growth of the business continued, so did Jay's reputation of providing winning engines.
By 1987, Ivey Engines, Inc. was here to stay, as five drivers running Ivey's engines won championships that year. At the end of the season, Jay began taking on new challenges and started working on the Canadian Export A Formula Ford series engines for Jimmy Vasser. In addition to these new challenges in 1988, Jay's engines took on a new look, parting ways with the old Detroit Diesel green and adopting the burgundy color that he still uses today.
In 1989, between the Export A and SISAPA series, Ivey's engines were in over 40 cars.  Drivers in the SISAPA series qualified on every pole, led every lap, and won every race including the championship won by John Fergus. By 1990, the business had outgrown its old location and moved to its current location which is located closer to the Portland airport.
In the early '90s Jay started building a few engines for the Toyota Atlantic series and powered David Empringham to a championship in 93'. In addition to building David's championship engines, Jay also built engines for "Rookie of the year" Greg Moore as he won the 92' USAC Formula 2000 Championship. He then moved on to building engines for the U.S. Formula 2000 series and the Hooters series, and in 94' built engines for Buddy Rice as he was coming through the classes. Buddy Rice later went on to win the Indianapolis 500 in 2004.
From the late '90s until present day, Jay has been focusing on Formula Ford engines for Vintage and Club Ford drivers. Jay's passion for the traditional "grass roots" of racing, has led him to taking the initiative to develop and have parts reproduced that have otherwise become obsolete and unavailable. This has led to increased engine durability, making them capable of handling 40–50 hours of track time, as opposed to the 18–20 hours of past decades. In an effort to keep the class affordable and attractive to new drivers, Ivey Engines, Inc. is continuing to research and develop alternatives to otherwise irreplaceable engine components to keep you at the head of the pack!